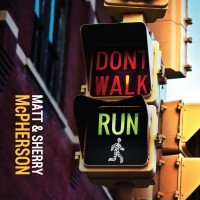 Matt and Sherry write songs that express their heart and passion for God and life. Their personal experiences are a big part of the songs on Don't Walk, Run, and their prayer is that you will be encouraged and blessed by this CD.
"We are very excited about this new CD. We gave our session players free reign to add their creative ideas to the arrangements of these songs. It was the most enjoyable and the best outcome for all of us. Our desire is to bless people with these songs and to encourage hope and freedom to those who listen." -Matt & Sherry
With its great songs and outstanding musicianship, Don't Walk, Run is an uplifting musical collection that will bless and inspire. Ask for Don't Walk, Run at your favorite Christian retailer, CD store or online e-tailer.
Song Titles:
Don't Walk, Run, What Does God Say About You?, Everything, I Can't Wait to See You, Faith, I'm Free, You Lord, Let God Love You, I Can See Clearly Now, You Got Nothin', You're Still Here, Over the Rainbow, When It's All Been Said and Done, This is God, The Salvation Poem
Updating...